SELECTED PROJECTS



A new way to be friendly with your intellectual property.

Willing to share it? Konomark it! The konomark is a symbol that invites people to ask to use your copyrighted work for free.




The tangible history of intangible property.

The MOIP's mission is to collect and display physical artifacts from the cases that define the law of copyright, patent, trademark, and other fields.




A free, downloadable casebook for torts.




Exam booklets from past courses.

Nuclear disaster threatens a posh ski resort, imagined aliens cause a mishap at a secret lunar base, a 1975 Ford Pinto takes to the skies, and much, much more.
RECENT ARTICLES



Negligence's X Factor

What happens when you turn the Hand Formula into an equation?




Intellectual Property and the Incentive Fallacy

The foundational premise of intellectual property – that art and technology needs external rewards – is wrong.




The NFL, Intellectual Property, and the Conquest of Sports Media

Sports Law Symposium

The NFL's assertion of IP entitlements poses a threat to the freedom of the press to report about sports.




Trade Secret Subject Matter

Symposium: The Evolution of Trade Secret Law: 30 Years of the UTSA

What makes a trade secret different from other kinds of business secrets?




Learning law the hard way is not better, it is just harder.
WYPADKIS
| | |
| --- | --- |
| | A wiki-powered collaborative class outline covering negligence, strict liability, intentional torts, economic torts, and more |
| | A wiki-powered collaborative class outline covering antitrust, bankruptcy, and consumer law |
| | A wiki-powered collaborative class outline covering copyright, trademark, patent, trade secrets, and more |
BLOGGING
POSTERS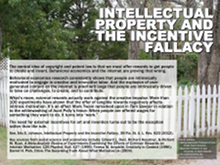 ARTICLES
PHOTOS